The American Cancer Society (ACS) has frowned at the recent misinformation about vaping products currently spreading in the US. As a matter of fact, they are in full support of harm reduction technologies and encourage people to frown at smoking. This is not far-fetched because their recent document recently released states it clearly that "American Cancer Society Public Health discourages use of Combustible Tobacco in the US"
The US still records about 37.8 million smokers despite the alarming rate of tobacco-related illness currently in the country. This statistical finding made the AMS stress the 'need for effective strategies to mitigate the deleterious effect of cigarettes and completely eliminate combustible tobacco products from the United States as supported by the Surgeon general'
The report clearly stressed that "Smokers needs to be properly sensitized about the part of nicotine in tobacco-related diseases and how the electronic nicotine delivery systems (ENDS) are a safer alternative."
Several erroneous reports by public health experts, tagging vaping products as "highly dangerous" are commonly seen in newspapers on a weekly basis and the vaping community is now seeing it as a ridiculous cliché.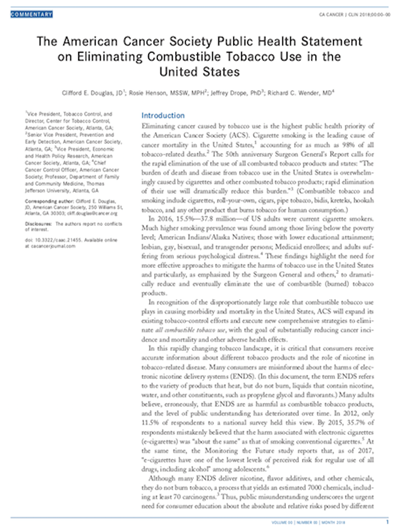 "A large percentage of the adult population naively believed ENDS to be as harmful as tobacco products"
"A large percentage of the adult population naively believed ENDS are as harmful as tobacco products, and the right knowledge about this product has been compromised over the years. Only 11.5% of smokers in the year 2012 believed this myth, but as at 2015, this myth of similar harmful effect with E-cigs and conventional cigarettes has been ingrained in the heart of 35.7% of respondents from a national survey"
This is not the case with young people because they believe the product is safer than all drugs including alcohol. They, therefore, plead in solidarity that wrong sensitization reports about E-cigs should be stopped and only the right information should be allowed.

To this end, the ACS has pledged to the public that:
ACS will ensure that accurate knowledge about nicotine-based medications, combustible tobacco products, ENDS and other important tobacco products is passed to smokers and the general public at large.
ACS will ensure that they present several evidence-based cessation options to smokers and guide them to ensure they are free from smoking combustible tobacco products.
ACS will be plain to direct all smokers to quit the use of combustible tobacco products
ACS will try their possible best to see that all these are achieved.
ACS also made it clear that vaping is a smoking cessation option that is strictly suggested to smokers to quit their habit which has great health consequence, hence, the non-smoking teens should not attempt using vaping products. POTV took supported ACS and encouraged the teenagers to uphold the advice.