Last month, the U.S surgeon general blocked Clive Bates from all conversations on his social media account. This is just after he had ignored all opinions from the foremost global expert on harm reduction. Bates has written many articles on vaping and harm reduction and he has spoken internationally with ASH UK, Britain's leading anti-smoking organization.
Adams wrote: "I spoke with my daughter's teacher and she told me about an 18-year old who is addicted to e-cigs. She explained that the girl was exposed to a sporadic use in school. She begged me to address this issue that is becoming an epidemic of youth initiation because it is now affecting the little girl's memory, mood, and sleep.
Bates responded: "You also have to see it from the perspective of a teenager who would be smoking instead. You don't have to just draw anecdotes from your own privileged background. The language you used sounds so unreal and weird."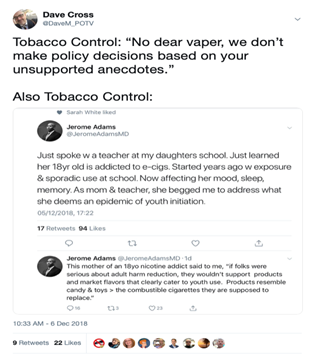 Bates statement was quickly refuted by the Surgeon general when he said: "what has my background got to do with what we are discussing?"
The conversation clearly showed that Bates was pointing out clearly that Adams writing and statement was influenced by his position as a Surgeon general. Adam didn't even consider an anecdote coming from a vaper; he only focused on giving credence to his fictional story. The people faced with the greatest risk of addiction to tobacco products are the poorest people in society. So, Adams writing was not too valid because he wrote from and about a privileged class position.
Clive debunked what people believed "Ordinary people do not speak the way you do. So I think you invented or embellished this exchange. That is my point in case it is not clear to you."
Adams willingness to hold dialogue came with an unpublished caveat because despite his claim that "I really want to hear from folks about the topic because I am an advocate for it." He didn't even supply the name of any consumer or nicotine advocacy body to POTV despite claiming he has met with vapers. He was claiming that he felt the reporter was an "anonymous…. Bot"
When Clive questioned the Surgeon general about his insourced tale, he blocked Clive and refused to engage one of the world's leading expert in harm reduction. Adam stuck his ears in his ears and refused to listen to the call of many to reverse his decision.
Clive later published an explanation describing Adams "inauthentic statement" as what is wrong with him.
The Teacher and surgeon general never even bothered to know what the 18-year-old would have been doing in the absence of e-cigarettes. This is a serious problem because they do not know the counterfactual. "The 18-year-old could have used vaping as a smoking-cessation tool"- writes Clive. "Regular vaping is highly associated with a propensity to smoke. So it is possible that it began years ago and in the early years of vaping."
"The teacher and surgeon does not really understand what happened with this teenager over the life course. Vaping only becomes a problem in the life of a teenager if it leads to many years of smoking. The girl is likely to quit, given the middle-class background. Moreover, what actually improves cognitive performance is nicotine and vaping is not what is affecting the mood sleep and memory of the child, as contained in the tweet of Adam, the nation's top doctor."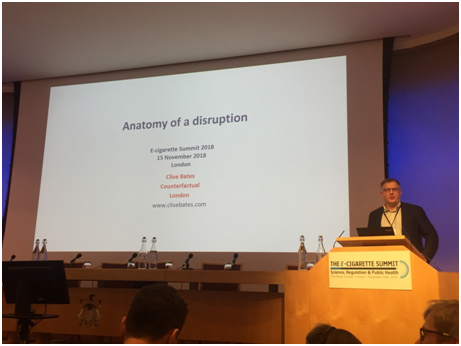 Adam ought to be conversant with what nicotine actually does to the body because he is a trained anesthetist. It is really ridiculous that Adam would accept and repeat this erroneous report from a teacher.
"It is disappointing that at the time when the United States urgently seek for science-based advice on public health that the Surgeon general will bow to anecdotes and hearsay without any critical analysis and scientific backing. Improve on yourself, Jerome Adams."