From the College of Medicine, Penn state university, a team is concerned about secret vaping in places where it is prohibited. Some papers written by some of the authors contradict the research which they are carrying out which makes it odd that they're doing it at all.
They mentioned in their writings that policies that provide smoke-free air prevents passive smoking and non-smokers from the hazards of the tobacco smoke, enhances reduction and quitting of present smokers. It's worthy of note that these people get their facts which creates tiger views from a Tobacco-free kids campaign data sheet.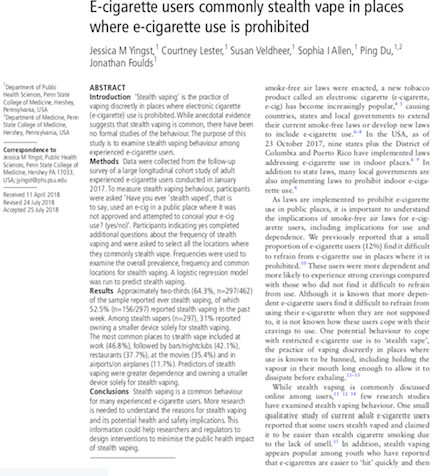 Now, they seem to be really worried, e-cigarettes are becoming very popular and it threatens to jeopardize those no smoking policies. What is their problem exactly?
The Tobacco regulation journal published a paper that captioned "e-cigarette users normally stealth vape in areas where its consumption and use is banned. This publication was with the help of Allen, Lester Veldheer, and Du. In the publication, they highlighted the practice to handle vaping in restricted areas by stealth vaping. How it was done secretly in prohibited places which include keeping the vapor long enough I'm there mouth so that it dissipates before it is exhaled.
The problems that the team foresees from this practice includes
The practice could result in increased levels of dependence
Bystanders and passersby can become potential liabilities of the practice by exposure to the second-hand chemicals in the vapor.
It could conjure a change in the norm and potentially promote e-smoking and the use of e-cigs among teens and youths breeding it in nonusers.
As we can see, these projections do not make any sense as Foulds said himself in 2014 after conducting a research among 3500 people that vaping does not or carries the very little potential for addiction.
Concerning the second-hand vapor concept, that is also utterly false as even though England's public health has recorded and broadcasted that the vapor brings about negligible harm to bystanders.
Lastly, if the stealth vaping as claimed is underground, then how can it possibly affect social norms if it's not seen? This proposition is just a joke.
Foulds himself said that vaping can be of help to those trying to quit smoking and can actually do good to people.
Present papers claim that in some restricted areas, stealth vaping have been discovered in some manipulated data of 64.3%. Yingst and Foulds made this questionable as they had published earlier that 88% of people find it easy to abstain from vaping where there is a ban on it. Also last year, Foulds research concluded that dependence on e-cigs is way less than smoking.
Foulds has been a consultant for pharmaceuticals involved in the production of smoking stoppage drugs where he was invited to research.