More recently there has been a huge popularity in the disposable vaping trend whereby you buy a cheap disposable vape from a convenience shop, supermarket, garage or a vape shop, use it for 1 to 2 days and then just throw it in the bin when it is dead.
Disposable vape's like many other things have become like plastic bags and many non-biodegradable items of convenience and the moral of how often you use these and what impact they have on the environment is a separate issue down to each individual. Our belief is this is a major backwards step when it is clear we need to address our declining environment.
But how does this new trend impact vaping and the customer experience?
It you got caught out, without your device or run out of battery expectantly, it would be a no brainer to get a disposable vape to get through the day to avoid falling back on the dirty cigs? They all work within reason whatever disposable brand you go for and this would prevent a crisis.
As well as the environmental impact the disposables have a few other downsides which are very important on the satisfaction of the device.
Positives:
You can pick them up easily in most convenience locations
Good for a quick fix in the instance you get caught without your normal vape
95% better than smoking and has all the benefits of vaping over smoking
Negatives:
You never know when it will run out so you must be prepared with a back up as it is not rechargeable.
When the battery drops below 50% many will lose their punch
Flavours are restricted and there are not as many options to everyone's tastes
It works out considerably more expensive in the long term.
There is more risk of you falling back into smoking without a regular device
Mostly only available in nicotine salts which means you can't drop in strength
Then if you compare the downsides of the disposables to the likes of many of the new styled POD systems there is a huge difference in the potential increased success level you will gain from a more permanent device.
Advantages of rechargeable POD systems:
Most fast charge very quickly so, as long as you have a charging port or portable charger, you will be unlikely to have a vape equipment crisis
All the new pod systems are refillable ensuring you get the maximum life out of your coils
Quite often you also get a battery indicator so you know how much time or power you have before it runs out.
Compatible with a huge selection of e-liquids in Salt nicotine or 50/50 mixes
Once you have settled for vaping with a pod system you have the option to slowly drop down your nicotine strength, if that is your goal to reduce or quit nicotine dependency
Fully open to all flavours that match all your tastes
You can have several Pods on the go and interchange them which allow you to change flavours or strengths on the fly.
Overall a huge amount cheaper. Reasonable Pod system vape kits start at around £20 so the equivalent cost of 4 disposables.
Here at Vapetime we oppose disposables for several different reasons but mostly morally and environmentally but we can see this as a gateway to being dual users. If you would like to get the maximum satisfaction from a smaller Pod System device we have a selection of great POD systems we have tried and tested that are excellent value and performance.
Please see 2 of our best tried and tested POD Kit suggestions below.
Xtal Pod System - £20 for the Unit with 2 Pods, Pods thereafter are £2.99 each and last well.
The Xtal has Push button draw or auto-draw options to imitate the smoking experience and charges in 30 minutes or less. Great value!
The Orion DNA by Lost Vape - £49.99 – The Kit contains the unit which is very small and 3 pods. The Pods thereafter are £4.95 each. The unit is a fast charge unit and lasts nearly the full day. The Orion DNA has the original consistent DNA 40 Chip by Elolv from the US and has a superior performance. If you mean business and want a premium Pod kit that has a good lifespan, this is it.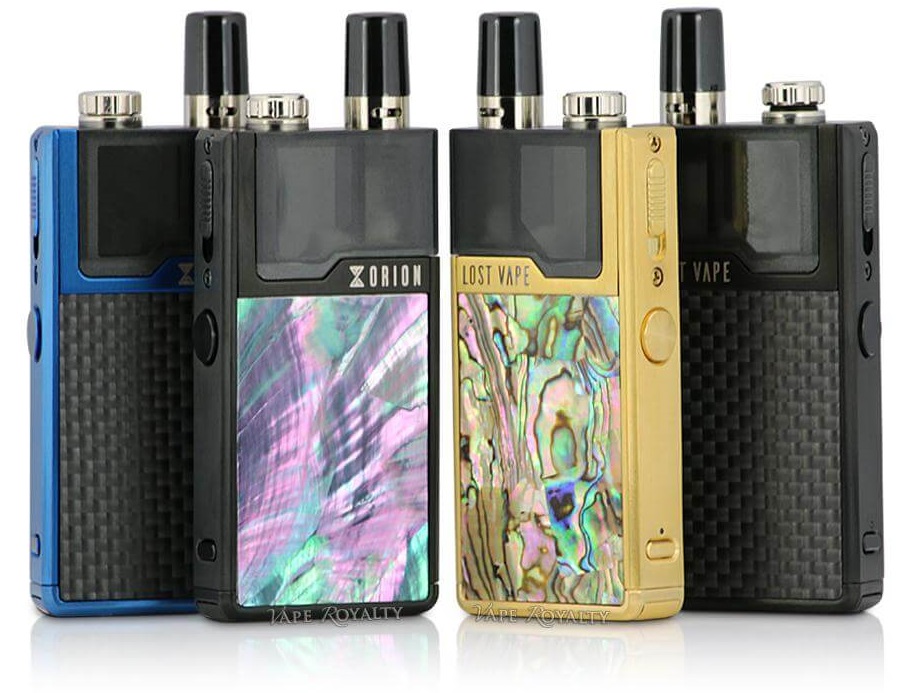 We have a great selection of high quality flavours and whether you're looking for hardware or e-liquids we can help guide you to what is right specifically to your tastes and budget.
Email us: enquiries@vapetime.co.uk
Call us: 0203 3718184