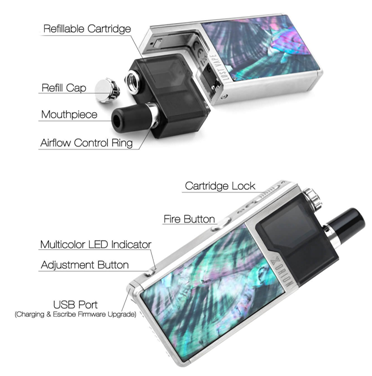 In 2014, Lost Vape was officially welcomed into the world of vaping. One of the major things the brand is known for is breaking boundaries with innovative technology and good craftsmanship. Regardless if you know of Lost Vape's products, the Orion has been a groundbreaking product for both existing vapers and for smokers making the switch.
The Lost Vape Orion DNA GO Pod System has a quality chip produced in the US which commonly known as the DNA chip making this a very intelligent device at the touch of a button. This enables you to tweak all your settings to find your sweet spot. The collaboration of Lost Vape and Evolv, which is the maker of Escribe software and the DNA chipset, enables you to really tweak the settings on the software if you would like to get really geeky, but equally works amazingly out of the box for anyone who purchases it.
What really separates the Orion DNA GO is the ease of use. This was the first of its kind with a high end feel, great chip and performance to match on any pod system device.
Small but Designed Like A Legend
The Lost Vape Orion DNA GO Pod System has a measurement of about 4½ inches in length and about 1½ inches wide. Its thickness is about a ½ inch. Though small and compact, it's a really beautiful and appealing device which is not much bigger than an expensive lighter. The chassis comes in silver, gold, black, blue and purple carbon fibre finishes along with the option of real abalone finishes is several colours for those wanting something a little more unique or bling. The body is made from high grade stainless steel. Every single inlay and colour combo looks expensive and durable and that is one of the other benefits that distinguish the Orion DNA GO from nearly if not all the other Pod devices in the vaping market place.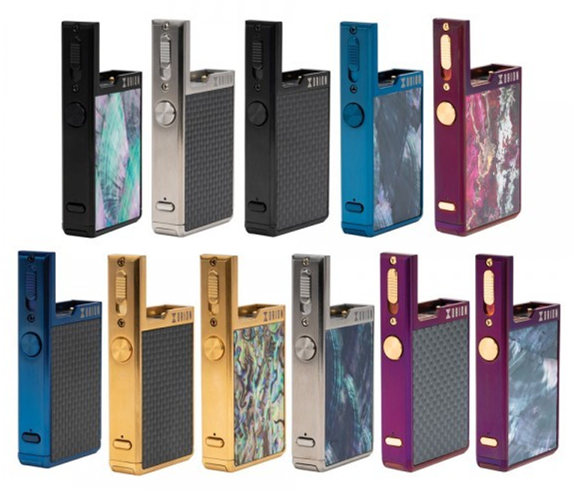 There is a cartridge lock for the pods on the body of the Orion and a LED light indicator, a firing button, an adjustment boost button, and a micro-USB port hidden away under a little clip on the bottom of the unit.
Geeky Product specs
DNA GO 40W chipset: comes with a built-in Escribe software and an official Evolv DNA GO chipset
Automatic settings for DL or MTL: come with an adjustable Ohm cut-off setting.
Default settings for DL include 0.2 to 0.39 ohm with default power profiles of 11W; 5boost for the White, 13W; 4 Boost for Blue, and 15W; 3 Boost for the Red.
Default settings for MTL include 0.47 to 0.71 ohm with default power profiles of 8W; 6 Boost for the white, 10W; 4 Boost for Blue, and 11W; 3 Boost for the Red.
You can add wattage profiles via E-Scribe and can also change MTL and DL wattage via E-Scribe too.
Built-in 950mAh Battery with 450 Puffs per charge
Comes with Escribe companion software, including Escribe DNA GO suite and manuals
Micro USB port
The pod design
The pod design is amazing. The Lost Vape Orion DNA GO pod is 2ml capacity and are usually black tinted in colour, enough to allow you see the level of the e-liquid inside. The pod cartridges are made from a polycarbonate 110 Food Grade, and the pods' coils are stainless steel with organic cotton wick. It has its filling port on the top; all you need to do is to unscrew the cap to fill. There is also a Delrin drip tip with an airflow that is also adjustable tor a tighter or airier draw. See the pods here: Orion Pods
Important! The Orion Pods is a satisfaction based device which is only suitable for 50/50 VG/PG Eliquids and Nic Salt Eliquids only. You can use any juice you desire and it will work but high VG juices will dramatically shorten the life of your pods.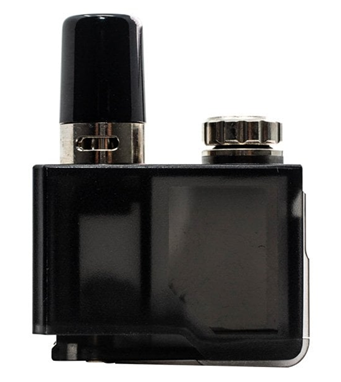 All of These Features in Just One Pod Mod
When people think pod mod, they straightaway think of nice quality and industry standard, but the truth is nothing actually changes in them all. The primary thing is to make comparison between top pod mod models and go with the one that best suits you. So if you have always thought a pod mod could not be packed with amazing and unique features, you may be mistaken. The new Lost Vape Orion DNA GO Pod system is one of a kind. With the DNA GO chipset integrated into it, it is pretty revolutionary.
The DNA GO Chipset and Features
The DNA GO chipset, which is from Evolv, works perfectly with their Escribe. By downloading the software from their site, you will be able to upgrade firmware and get your vaping experience customized by changing Low, Med, and High wattage settings and much more. It is very simple and the option that allows you to tinker with your Orion until it becomes your perfect experience can't be compared with anything else.
The Evolv's patented replay mode is also there to help you save a power setting you feel is the perfect puff for you. To go into replay mode, all you need to do is to hold down the adjustment button for a couple of seconds and wait for the light to turn green. Then you are good to go! If you want to exit the mode, click and hold down the button again. According to Evolv, one of the benefits of the replay mode is that it helps to extend your battery life, prevents dry hit, offers a consistent hit each of the time, and extends the lifespan of your pod.
The DNA chipset also provides a boost function, which allows you to boost your puff or increase power output. It also has an auto-detect feature that recognizes the resistance of your pod and adjusts accordingly.
The LED Light indicator for battery life
With this pod, it is very easy to check your battery life. You only need to press the firing button twice. The colors of the LED light are customized in the Escribe software. The standard settings include Blue (95-100%), Green (70-95%), Yellow (30-70%), Red (15-30%) and when it's blinking, it shows 0-15% battery life. When you have a low battery, the LED light will continue blinking until the device automatically shuts off.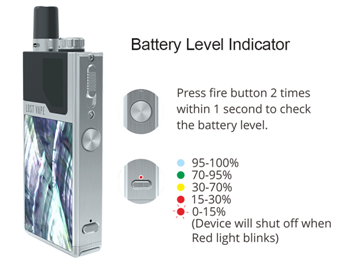 Vaping the Lost Vape Orion DNA GO Pod system
Trust us; there hasn't been any other pod mod that is as enjoyable as this Orion DNA. The device offers more than a standard pod mod, and you can easily use it for direct lung vaping and mouth to lung vaping which is closer to actual smoking. The two pod types are the 0.25-ohm pod, which was listed as a direct lung pod – better on vapor production and the 0.5-ohm pod – listed as an mouth to lung pod and better for flavour. Even though the pods are labelled MTL and DTL, they both function just great in either style of vaping which makes this device very flexible to the user.
The pods with nicotine salts produce a fantastic flavour, but they also work great with regular e-liquids too. There is actually no real downside with how this vape works, except maybe a slightly looser MTL draw.
Learning how to use the Orion was pretty easy, even though the Escribe software first sounds complicated it is very intuitive and with a quick look on Youtube it doesn't take long to work it out even if you are new to vaping. Lost Vape stated that the battery life stays up as long as for 450 puffs, which we have found equal to around 4-6 hours of vaping. With the help of the 1A onboard amp that comes with the pod, charging was pretty fast too. In about 30-45 minutes you should reach a full charge.
Should You Buy the Lost Vape Orion DNA GO Pod System?
If what you want is a pod mod system that will serve you longer than the normal pods on the market, then, Yes, you should go for the Lost Vape Orion DNA GO pod. The customizable features of the pod are amazing, and I'm sure you will be thrilled. If your priority is getting a higher quality product, even if it means spending a bit more, then the pod is your best shot. While the Lost Vape Orion pod is probably not for everyone, it occupies a good position on my list of pod systems. It's one of the best I have laid my hands on. You should consider getting this too.
It's absolutely worth the investment!